When performing a business appraisal, a great deal of research and analysis is done to help the appraisers arrive at an indication of value for the entity. Certain research and analyses relate to the appraiser's assessment of risk. One type of risk analysis often used is the S.W.O.T. analysis ("SWOT").  SWOT helps an appraiser examine a company's Strengths, Weaknesses, Opportunities and Threats.  SWOT dives into a company's internal strengths and weaknesses and to their external opportunities and threats.
Strengths
A company strength could be a core competence in which the company performs well, compared to the company's competitors in the industry.  These core competences can vary from good quality control, to excellent customer service to adapting to ever-changing customer needs.  A company's strengths can vary and include good financial resources, good reputation with their customers, innovational skills, costs advantages or proprietary technology.
Weaknesses
An entity's weaknesses can include a lack of clear corporate direction, obsolete or insufficient facilities, lack of depth in management or poor market image.  These weaknesses should be noted by management and, ideally, they should be looked into in an effort to mitigate them.
Opportunities
External opportunities include a company's ability to enter new markets or gain market share of existing one.  It can also gauge the ability of a company to expand their product line to meet a broader range of customer needs and vertical integration.
Threats
Conversely, when addressing external threats, the analyst may look at issues like ease of entry into the company's existing market by low-cost competitors, a growth in product substitutes and a company's vulnerability to peaks and valleys in an economic cycle. Other threats may include an overreliance on few customers and vendors, environmental trends, and governmental policy changes.
Other similar models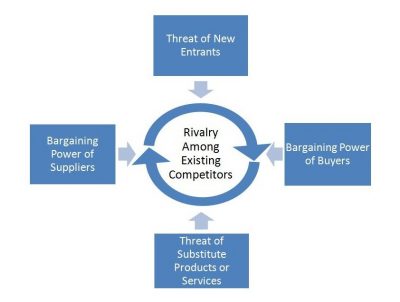 Many elements of the above issues are also addressed in other models.  For example, Porter's five forces model analyzes the impact on rivalry between competitors.  Porter's model considers the bargaining power of suppliers and customers, threats of new entrants, and threats of substitute products or services.  This model is often expanded to consider macroeconomic factors, as well.
Appraiser Considerations
Many appraisers do a significant portion of the above analyses without realizing that they are doing so.  Appraisers should focus on all aspects of SWOT and consider how external forces affect competition.  Choosing to only focus on limited or select attributes  can contribute to an incomplete assessment of risk, which results in an inaccurate company valuation.  For example, market opportunities may be a significant factor in formulating a company's corporate strategy.  However, just because there are market opportunities doesn't necessarily mean that a company is adequately situated in their industry to take advantage of these opportunities.
Clearly, understanding the business is a key component to understanding value. Learn more about our business valuation consulting services.